TRIDENT MARINE
CANVAS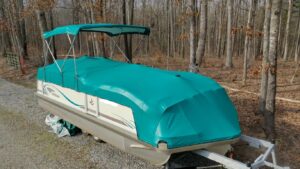 Trident Marine Canvas and Upholstery, LLC was started by George Hanna to fill the need for quality and design for custom canvas covers and upholstery in the Lake Anna area.
George grew up and attended school in Louisa County before heading off to college. Being from the Louisa area, he got very well acquainted with life on the lake early on. This would later play a big factor in his decision to choose Lake Anna for the base of his operations.
Finding the best products with the longest-standing track records was key. Having grown up in and around a custom canvas shop, it became paramount early on to have an attention to detail. Being on the water as much as possible growing up allowed George to see how unforgiving nature can be when it comes to the boats he would cover and repair.
George was taught the canvas trade by his father and grandfather, with custom fabrication experience spanning over 60 years. This legacy has imparted to George a deep knowledge of the industry. The canvas and upholstery market has changed and advanced over the years, so George knows the means and methods of the past as well as the present.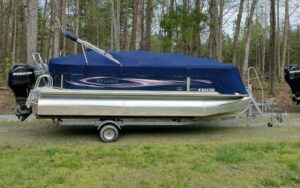 Creating quality and design is a crucial part of George's business. Using supplies such as Sunbrella allows for 10-year material warranties on tops and covers. This helps give customers peace of mind knowing that the materials are of the uppermost quality.
Working within the communities and marinas in and around Lake Anna has definitely shaped Trident Marine Canvas into the shop it is today. Understanding the unique situations lake boaters deal with while storing their boats has allowed Trident Marine Canvas and Upholstery to shape the way they help their customers.
Providing knowledge of how to help customers preserve and protect their boats is a big priority for George. The saying, "If you can't put it in your eyes, then you shouldn't use it to clean your fabric" helps minimize the amount of harsh chemicals individuals use to clean their fabrics. Helping customers preserve what they already have is important to George.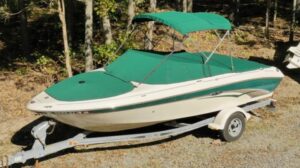 George decided to found his business at Lake Anna because he loves his home, he loves his lake, and he loves his lifelong friends and family. This place is his home, so it was the perfect fit. As the seasons change and currently bring the need to social distance, Trident Marine Canvas and Upholstery will be here on Lake Anna to help keep boats in quality shape.